How to Answer a Foreclosure Complaint in New York
The simple answer is that you should talk to an attorney to go over your options before filing an answer. You may feel that you cannot afford an attorney, but the real question is can you afford to lose your home because you filed an answer incorrectly or did not raise all of your defense. No one wants to be in foreclosure and it can feel like a situation that you do not want to deal with or talk to anyone about.  Just remember you are not alone, and hundreds of people a day across the USA are going into foreclosure.  The New York Court system offers many resources for people in foreclosure.  This ranges from a sample foreclosure answer to resources to find attorneys by county in New York. If you are trying to do everything yourself, you may be reading out of date material on the internet, and this most likely will be the only time you have to deal with a foreclosure in your life.  Instead of doing this on your own, talk to an attorney.
Sample New York Foreclosure Answer
Below is an image of the sample Foreclosure Answer that can be found on the New York Court's website.  There are 7 pages in total in the packet. We are going to give a high-level overview of what goes into the answer and links to the rules behind each of the affirmative defenses in the sample answer.
You should have an attorney who focuses on Foreclosure Defense review your options before you try to submit an answer yourself.

  
The sample answer does not have all of the defenses that can be plead, and the way it is written may cause you to waive defense you may need to include in your answer to save your home.  The first five pages are a "Verified Answer to Foreclosure Complaint." Page six is your "Verification" that everything in the previous five pages is true and you are swearing to it.  If you choose to do this yourself, pages six and seven will need to be signed in front of a notary.  Page seven is your "Affidavit of Service" for saying who was served by you, how and when.  Without pages six and seven your answer may not be accepted by the court.
Page 1. Sample New York Foreclosure Answer –
Not a list of Complete Defenses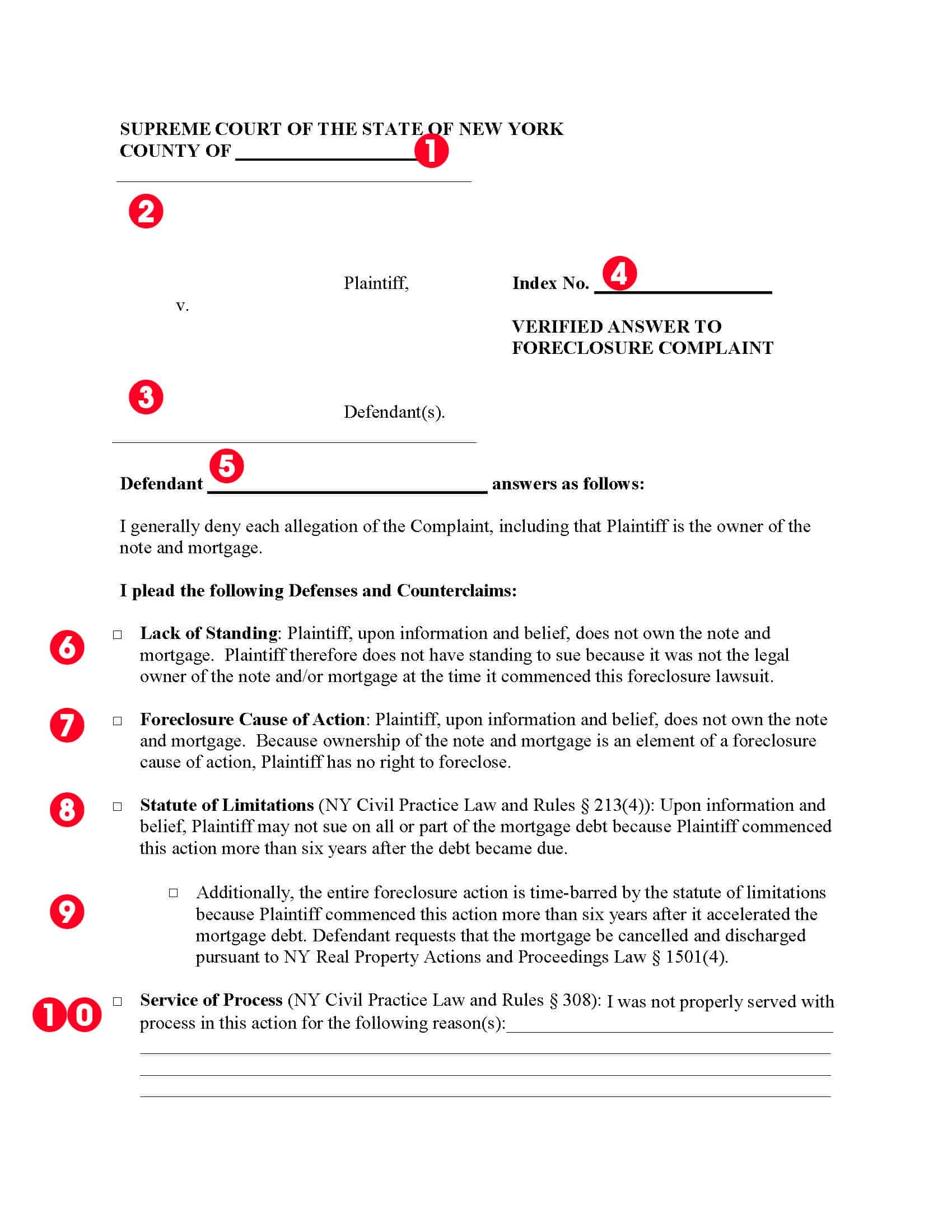 Items 1-4 are taken directly from the Summons and Complaint that you were served with. You may see in later filings if there are multiple Plaintiffs and Defendants only the first listed followed by the abbreviation Et Al. which stands for "and others".
Item 5 is the person who is swearing to the answer and will be signing all of the documents in front of a notary.
New York Foreclosure Affirmative Defenses
The list of answers in the sample answer provided by the court does not have every affirmative defense and may not provide the need help that anyone needs when answering a complaint.
Affirmative Defense listed as 6. Lack of Standing – The company foreclosing must have the note to foreclose, however, there are exceptions to this rule. There are dozens of articles online about the "Show-Me-the-Note" defense to challenge standing, but there are ways banks handle lost or destroyed notes that the courts allow.  In this type of situation, an attorney is needed to fight on your behalf.
Affirmative Defense 7. Foreclosure Cause of Action – This is similar to Lack of Standing in that the Plaintiff bringing the foreclosure needs to own the Note and Mortgage.
Defenses 8 and 9. Statute of Limitations (NY Civil Practice Law and Rules § 213(4)): To foreclose in New York on a Mortgage and Note the action needs to be brought within six years from the time the debt is accelerated. This an oversimplification of the rule, as there are ar other modifiers that may come into play such as if a previous action was brought, or if the action was dismissed or disposed.  As with every defense listed, you should talk with an attorney to go over the fine points of the defense and how it applies to your situation before pleading that defense.'
Affirmative Defense 10. Service of Process. –  (NY Civil Practice Law and Rules § 308): The line "I was not properly served with
process in this action for the following reason(s):" seems straightforward, however, if you fill out this statement incorrectly you may accidentally admit that you were served, or not specifically explain why you were not served correctly that the court will view this as a valid defense.  Many times people think they were served when they legally were not, and vice versa. Talking with a New York Foreclosure attorney should be your first step in deciding how to answer a foreclosure complaint.
Page 2. Sample New York Foreclosure Answer – Not a list of Complete Defenses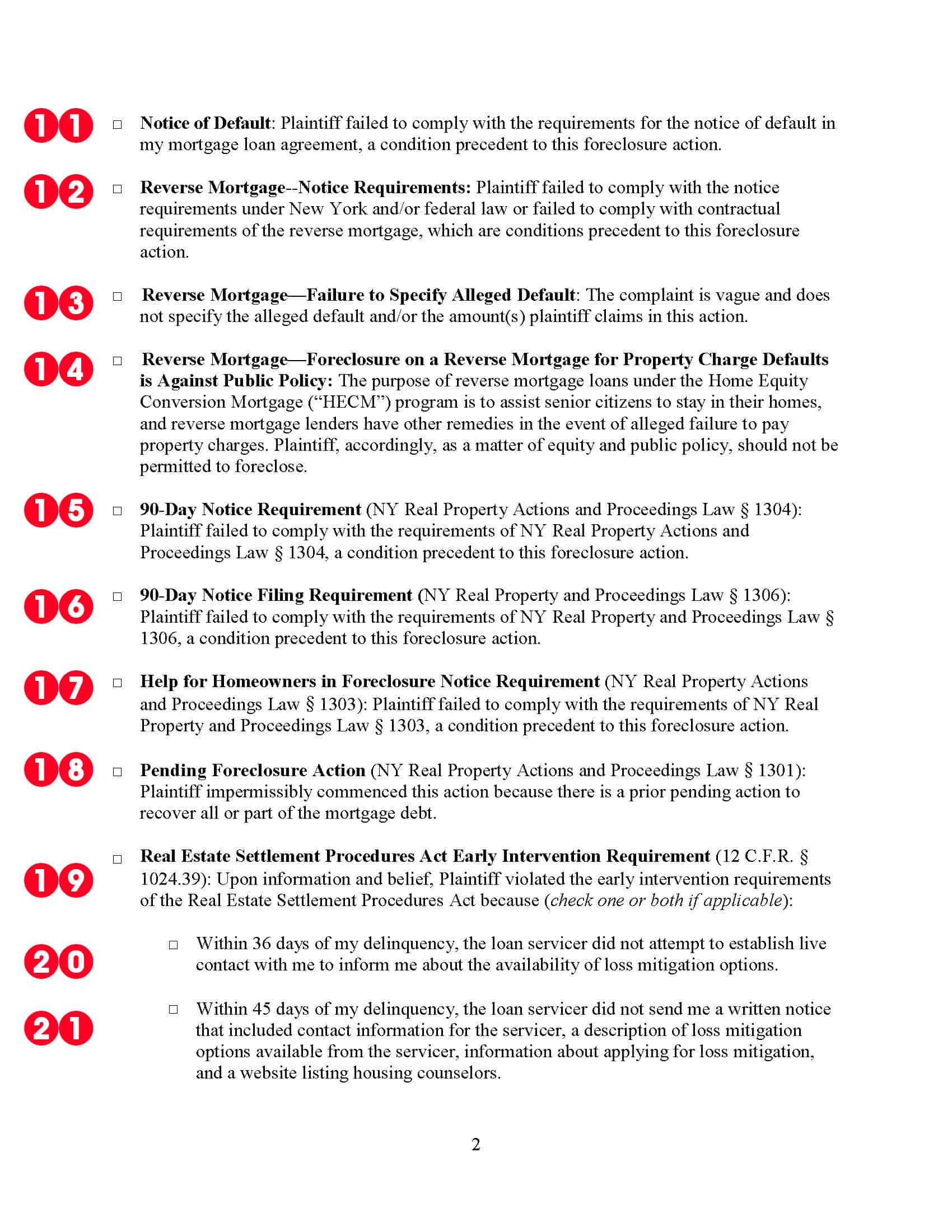 Affirmative Defense 11. Notice of Default: This is saying that your bank or servicer did not follow the requirements for the "notice of default" in your mortgage loan agreement.  Most banks have a standard process that follows state and federal laws.  If you truly believe they are not following this rule, review your claim with an attorney.  Most foreclosures follow the letter of the law since 2008 – 2012 housing bubble bust.  This defense was much more common 5 years ago.
Affirmative Defense 12 – 14. Only apply to Reverse Mortgages. If you have a reverse mortgage or are inheriting a home with a reverse mortgage, you should talk to an attorney about the options you have to bring your mortgage current and the other possible solutions outside of a foreclosure courtroom.
Affirmative Defense 15-16: 90-Day Notice Requirement and 90-Day Notice Filing Requirement –  (NY Real Property and Proceedings Law § 1304 & § 1306): RPAPL §1304 requires that your lender or the current assignee of your loan send you a mandatory 90 day pre-foreclosure warning notice. RPAPL §1306, in turn,  requires your lender or the current assignee of your loan/mortgage loan servicer file notice with the New York Superintendent of Finacial Services within three days of mailing the notice.
Affirmative Defense 17: Help for Homeowners in Foreclosure Notice Requirement (NY Real Property Actions and Proceedings Law § 1303): This is another defense where you would be claiming not to have received proper notice prior to the foreclosure action.  Talk with an attorney prior to attempting to use any defective notice defenses, as many times the notices may have been sent, but to the wrong place or not at all, and if the answer is defective then these defenses may be considered waived.
Affirmative Defense 18: Pending Foreclosure Action (NY Real Property Actions and Proceedings Law § 1301):  If a previous action was brought and not disposed of properly, this may be a defense that would work in your current case.  Speak with an attorney to have them double check all of your previous cases.  Many cases filed prior to 2011 need to be physically checked at the County Courthouse as cases that are not efiled are currently not available the same way recently filed cases are on ecourts.
Affirmative Defense 19 – 22: Real Estate Settlement Procedures Act Early Intervention Requirement – RESPA (12 C.F.R. §
1024.39) Servicers must make good faith efforts to establish live contact with a borrower no later than the 36th day of delinquency.  This is going to be a tough claim to win an entire case, and the 45-day notice for mailing is like the other notices.  In current foreclourses many of the loan servicers have a checklist that they go down to ensure all of these items are met, however, there are times when they do not do what they are supposed to.  We have witnessed first hand where the address was corrected along the line by someone to the wrong address, or the paperwork was being sent to the wrong location based on a clerical error.  Talk with an attorney to fully audit your case to see what defenses you may have.
Page 3. Sample Foreclosure Answer New York- Not a list of Complete Defenses or Counterclaims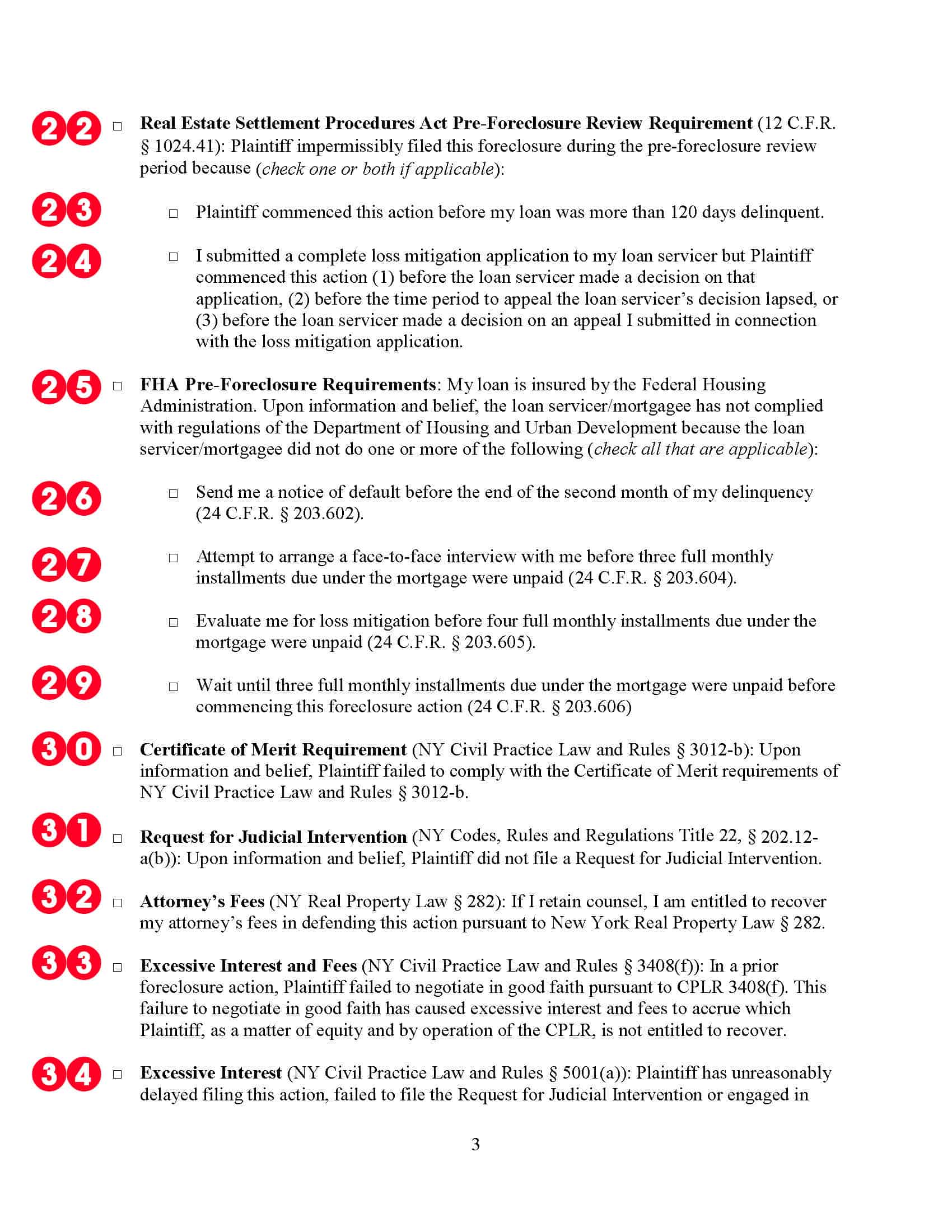 Affirmative Defense 22 – 24. Real Estate Settlement Procedures Act Pre-Foreclosure Review – RESPA 12 C.F.R. § 1024.41) : Your loan servicer is not allowed to foreclose until you are 120 days late. Also, if you have a loss mitigation application with your bank, your rights may have been violated.  Many times people feel that their bank is playing games with them when attempting a loan modification. Having to resend the same documents over and over and being asked for documents that do not exist. If you need help with a loan modification or you have been turned down in the past, talk with an attorney about your options.  The same goes for this defense; talk to an attorney to go over all of your options.
Affirmative Defense 25 – 29. FHA Pre-Foreclosure Requirements: These defenses only apply to FHA loans.  If you are unsure if you have an FHA loan, have an attorney review your paperwork. FHA loans enjoy more protection than many other types of loans that offer solutions outside of the Foreclosure Court system. Talk with an attorney to go over your options.
Affirmative Defense 30 Certificate of Merit Requirement (NY Civil Practice Law and Rules § 3012-b) The attorney for the bank or loan servicer needs to submit a certificate stating that the foreclosure has "merit".  Many older cases did not have this certification, however, many newly filed cases have this.  If you are unsure about your mater, talk to an attorney.
Affirmative Defense 31 Request for Judicial Intervention (NY Codes, Rules and Regulations Title 22, § 202.12-a(b)): This is more of a procedural issue, that will not stop a foreclosure. This is an example of how the sample answer provided by the court is not the best reference for defending your self in a foreclosure and why consulting an attorney can help save your home.
Counter Claim 32 Attorney's Fees (NY Real Property Law § 282): This is a counterclaim informing the bank that you are entitled to attorney fees if you win your defense.  However, if you do not have an attorney you will not be paid for your time.
Counter Claim 33 Excessive Interest and Fees (NY Civil Practice Law and Rules § 3408(f)): If there was a previous action and the bank failed to negotiate in good faith, you may be able to recoup interest and fees. see US Bank N.A. v Sarmiento 
Counter Claim  34 Excessive Interest (NY Civil Practice Law and Rules § 5001(a)): If your bank or loan servicer unreasonably delayed filing this action, failed to file the Request for Judicial Intervention or engaged in other shady behavior the court can reduce the interet you owe.
Page 4. Sample Foreclosure Answer New York- Not a list of Complete Defenses or Counterclaims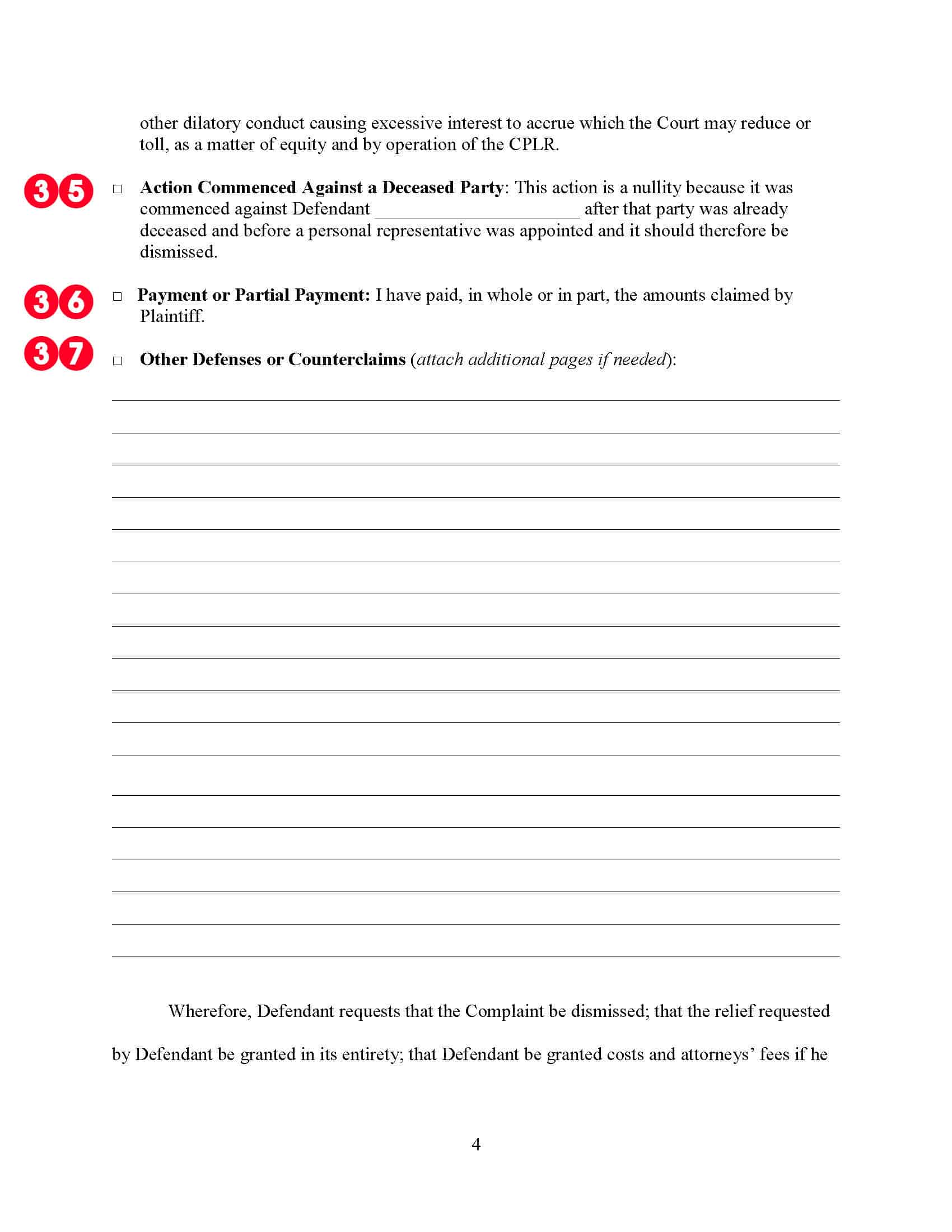 Affirmative Defense 35. Action Commenced Against a Deceased Party: If at the time the action was brought the person named as the defendant was deceased, the case is considered a nullity as you cannot sue the dead. If the action was brought against the estate of the person there are other defenses that can be raised.  Talk to an attorney if this is a fact pattern that matches your situation. If the person who is being foreclosed dies during the suit, there
are other defenses that need to be raised.
Affirmative Defense 36. Payment or Partial Payment: If you have paid your mortgage, or the funds were misapplied if your loan was transferred, this defense can help force your loan servicer to get back on track.  Talk to an attorney.
37. Other Defenses or Counterclaims – This is the shortcomings of the sample paperwork.  It does not contain all of the defenses you can raise or the counterclaims.  This is why you should consult an attorney prior to filing an answer.  This area is not a spot to explain your side of the story.  This area can act like a trap to those who do not know how to file an answer.  People admit things they should not by accident.
Page 5. Sample Foreclosure Answer New York- Signature Page for Pro Se Filers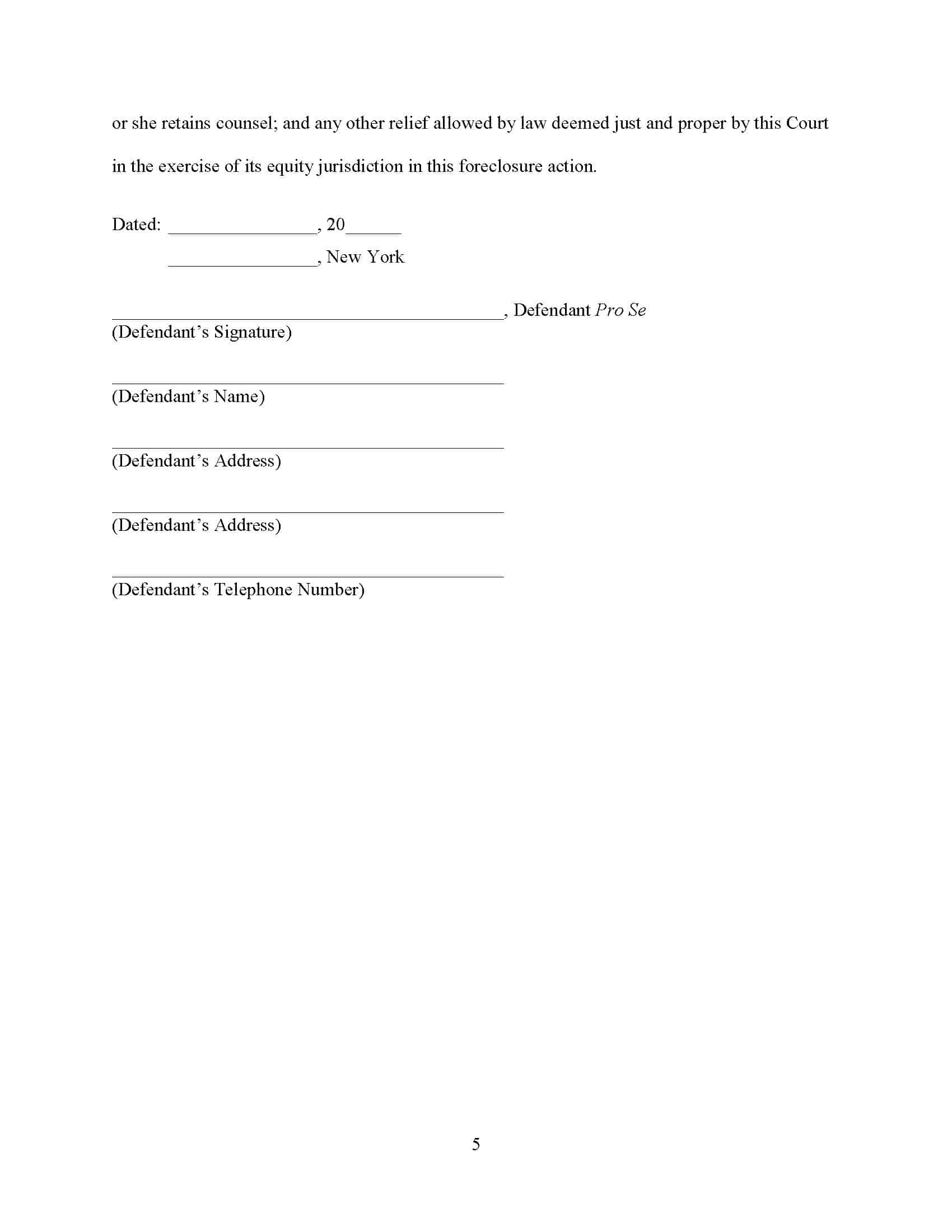 Page 5 is the signature page for defendants that do not have attorneys.  I have never in my life recommended a person file an answer to a foreclosure case without an attorney. Many of my foreclosure cases revolve around undoing the damage caused by poorly filed answers.
Page 6. Sample Foreclosure Answer New York- Verification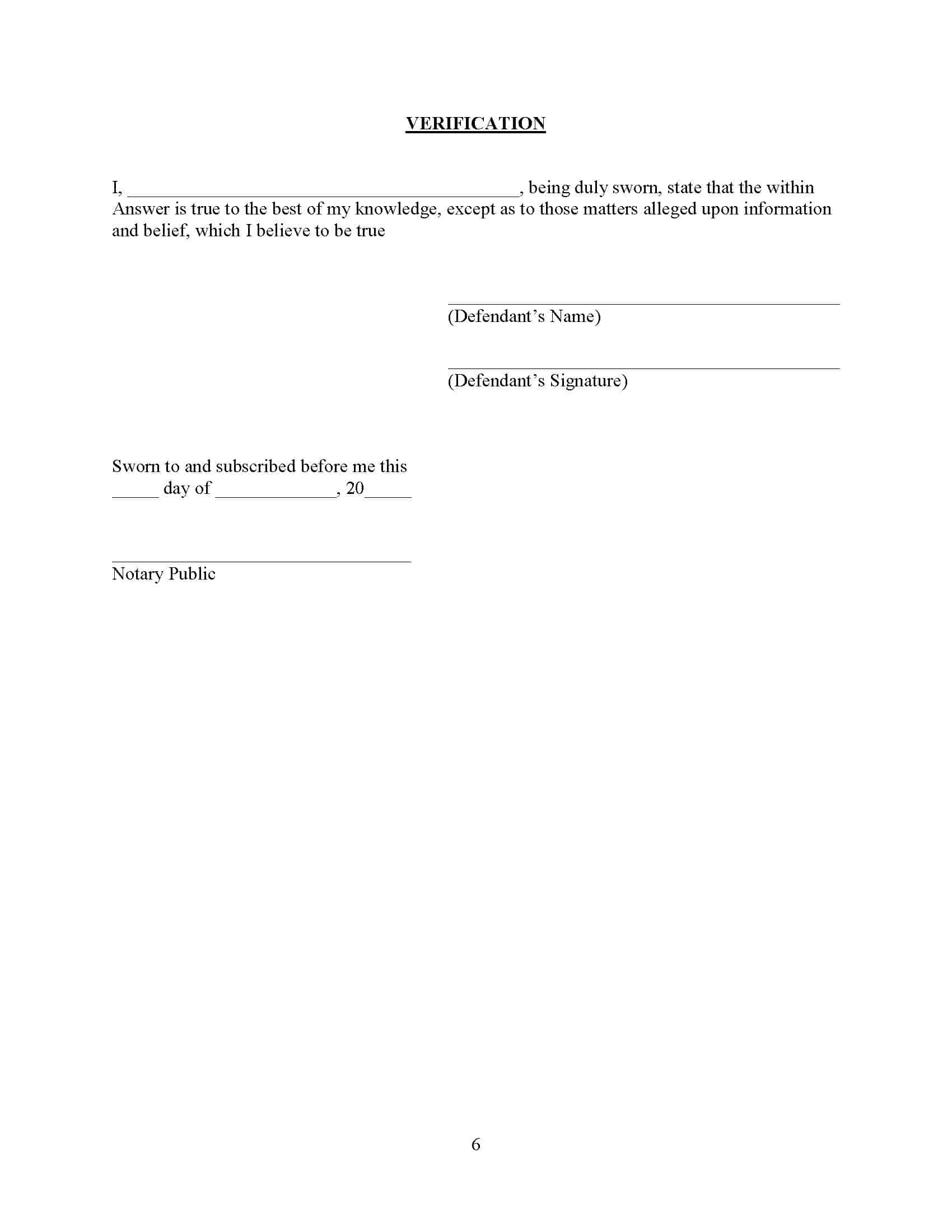 Page 6 is the verification where the Pro Se filer signs in front of a notary attesting that the answer is true.
Page 7. Sample Foreclosure Answer New York- Affidavit of Service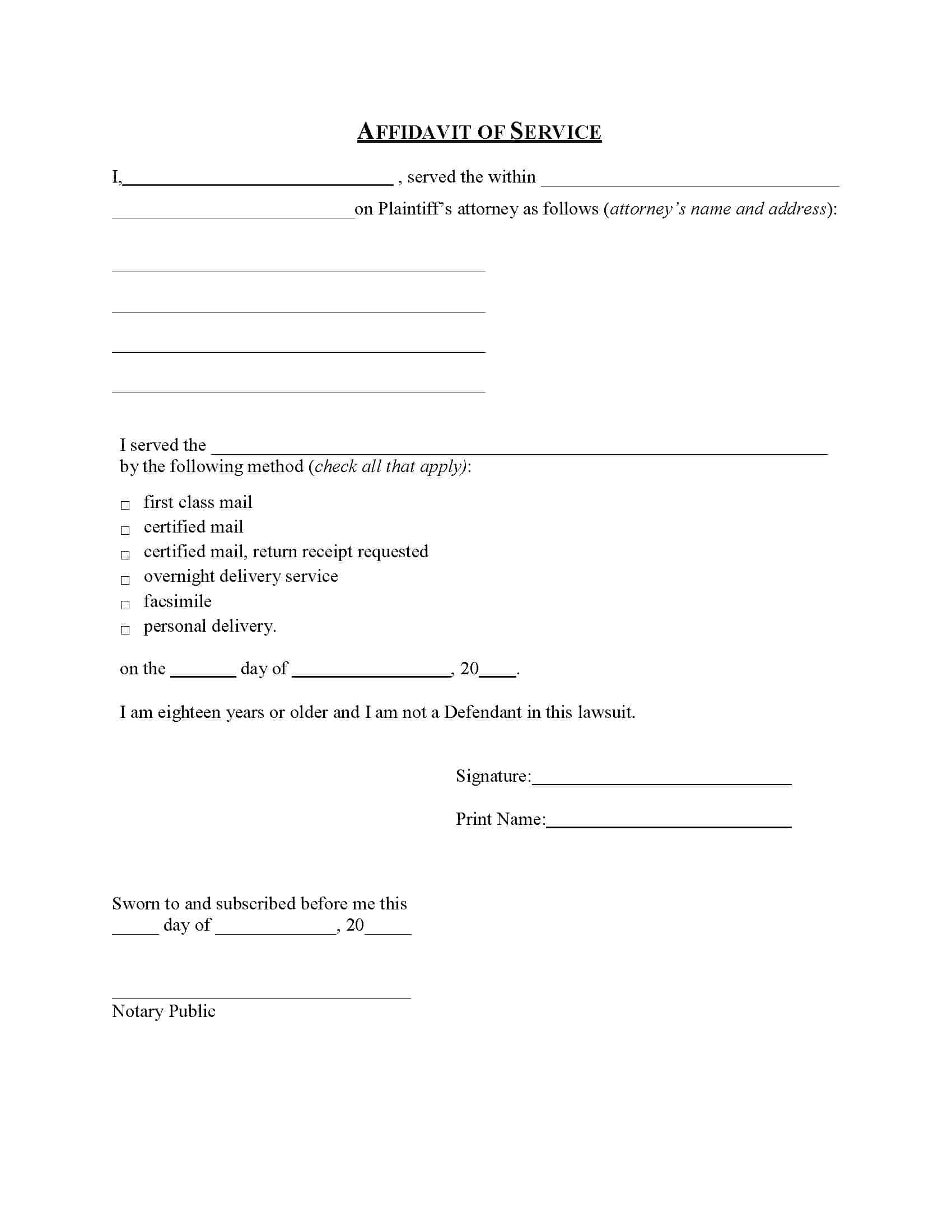 Page 7 is the Affidavit of Service that lists who was served and how.  This is also signed in front of a notary.